OZONE DESTRUCT UNIT SPECIFICATIONS

HA - SERIES
---
MECHANICAL


| | | |
| --- | --- | --- |
| MODEL | HA-58 | HA-434 |
| | | |
| DIAMETER | 4" X 0.083" tubing | 4" X 0.083" tubing |
| BED LENGTH | 26" | 30" |
| OVERALL LENGTH | 32" | 36" |
| INLET CONNECTION | _" welded | _" welded |
| OUTLET CONNECTION | _" welded | _" welded |
| MATL OF CONSTRUCTION | 316L SS ep | 316L SS ep |
| BED VOLUME | 0.175 cu. ft. | 0.211 cu. ft. |
| CATALYST TYPE | Carulite 200 | Carulite 200 |
| CATALYST WEIGHT | 11.3 pounds | 13.7 pounds |


PROCESS SPECIFICATIONS


| | | |
| --- | --- | --- |
| FLOW RATE* | 20 slpm | 30 slpm |
| | | |
| SUPERFICIAL VELOCITY | 0.15 ft/sec | 0.21 ft/sec |
| INLET CONCENTRATION * | 12.5 wt % | 12.5 wt % |
| OUTLET CONCENTRATION | <0.01 ppm | <0.01 ppm |
| MAXIMUM TEMPERATURE | 250 C | 250 C |
| NORMAL OPERATING TEMP | 150 C | 150 C |


INSTRUCTIONS FOR THE HA SERIES OZONE DESTRUCT UNIT

INTRODUCTION

The HA series ozone destruct unit utilizes a thermal-catalytic method to remove excess ozone. The catalyst is a transition metal manganese dioxide-copper oxide material. It is not consumed by the ozone and acts as a true catalyst. The material is non-hazardous and can be removed to a Class 1 landfill. The conversion of ozone to oxygen is an exothermic reaction and the combination of catalyst and heat generated in the reaction is a very efficient method of ozone destruction. External temperatures may reach as high as 150 C and steps must be taken to prevent accidental contact with an operator.

HA-434 General Layout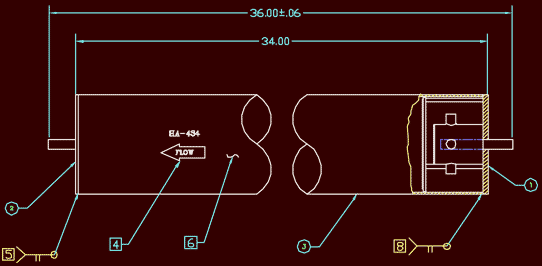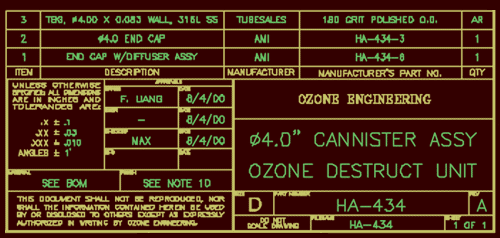 Download HA-434 General Layout PDF

Download HA-434 Performance PDF

INSTALLATION

The HA unit is typically mounted vertically and ozone gas flows from bottom to top of the unit. An arrow etched on the unit shows the flow direction. The unit must be supported securely to a wall or strut, either with pipe straps or from below the catalyst canister. The latter is the recommended method. The exit is out the top of the unit and must not be obstructed. The exit of the HA unit can be left open to atmosphere or piped to an outside area or scrubber, away from personnel. The HA is designed to have a 0.00 ppm ozone concentration at its exit. Be sure that the ozone flow rate does not exceed the specifications for the unit. If the flow rate is too high, complete ozone destruction will not take place. Performance curves for the HA units are available.

The unit will also work if mounted horizontally, but this is not recommended. It is possible that some ozone gas could by-pass the catalyst.

The standard HA unit is supplied with welded end connections and is welded into the operating line to prevent leaks. However, the unit is also available with compression and VCR fittings. A refillable option is also available.

Pressure drop of each unit is designed to be less than 1 inch water column.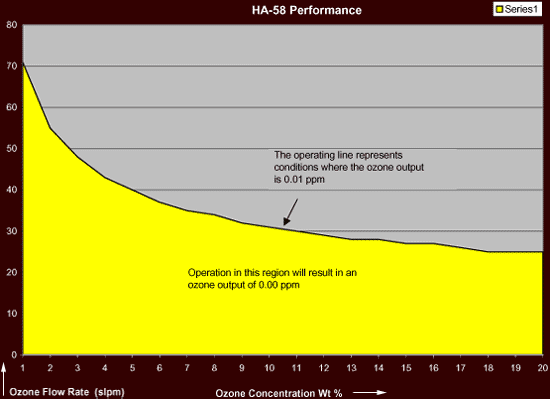 OPERATION

Before using the HA ozone destruct unit, be sure to check for leaks in the system. The unit is helium leak checked at the factory, but connections should be checked after installation. At that time, ozone offgas can be introduced into the destruct unit. On cold start-up, a break through of ozone may take place. Typically, this is on the order of 0.05 – 0.010 ppm ozone or less. This break though should last for less than one minute, until the unit heats as result of the heat of reaction. Check again for leaks and make sure that no ozone can be detected in the room. A room monitor is still recommended, even when the ozone destruct unit is used.

PLEASE DO NOT TOUCH THE UNIT WHILE IN OPERATION!!!

LIFE OF THE CATALYST

The manganese dioxide-copper oxide is a true catalyst and is not consumed. However, certain contaminants can reduce the reactivity of the unit. These contaminants include hydrocarbons, moisture, and particles. Of particular interest in semiconductor applications, NOx (oxides of nitrogen) may reduce the reactivity of the unit over time. The NOx is a by-product of some high concentration ozone generators, particularly if the generator is doped with nitrogen, typically 0.5-2.0 % by volume. The life of the catalyst will depend on the doping rate and the number of hours the unit is operated. A typical lifetime for a unit in these conditions is 1-5 years.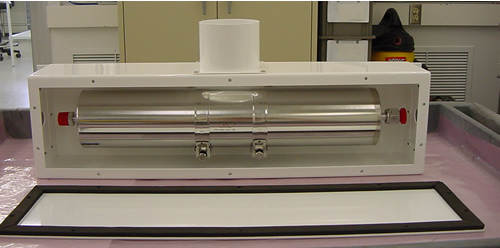 HA-434 installed in a Gas Box
---


FOR MORE INFORMATION CONTACT:

Cindy Slezak
OzoneDestructs.com
510-758-5570
800-557-5393
510-758-5571 FAX
cindy@ozone-engineering.com